Using an eZine (Electronic Newsletter) as a part of your overall Internet Marketing plan can be a powerful way to achieve your marketing goals. Less experienced marketers commit a number of common mistakes that may cause your targeted list to opt-out. Here are several common mistakes to avoid in your eZine campaign.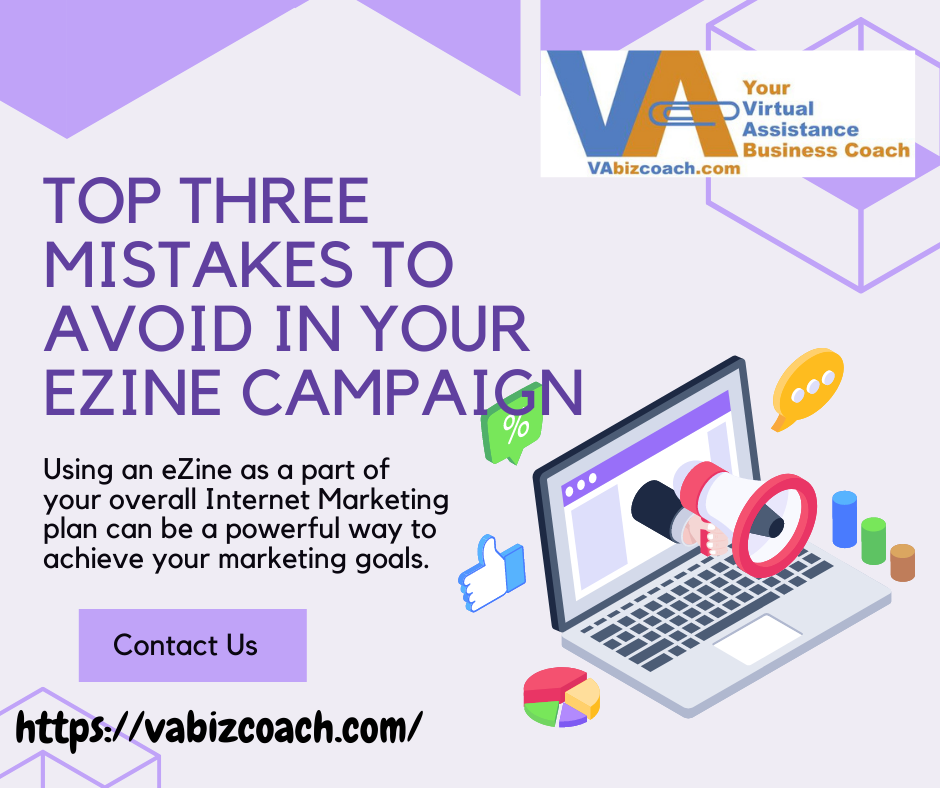 1) Sending Out Promotions Rather than News
All Internet marketing, including your eZine, should focus on building long-lasting relationships with your subscribers over time. If your eZine message is consistently aimed at prompting an immediate sale, you'll find a steady stream of subscribers opting out.
To build a loyal following, design your eZine campaign to provide content and resources that will help spark interest in your product or service by subtly providing them with topics that show the benefits of your offerings. For example, if you're a business coach, sharing information that your target market could benefit from, will quickly show them you are an expert in this field. This will eventually lead to a positive action on their part, i.e. contacting you for professional business coaching.
2) Not Focusing on Subscribers
When organizing your eZine campaign, provide relevant and up-to-date content written in a way that speaks to your subscriber's needs, never on your business offerings. People don't care much about what your business can do for them, but what they can gain by building a relationship with you, that may ultimately lead to working together. Using our coaching example above, sending valuable resources and information about challenges your ideal client may face would be better than just an announcement about your next program. By providing relevant content in a timely manner, subscribers are more likely to be loyal to your eZine campaign.
3) Making it Difficult to Opt Out
Your eZine success is not driven by the number of subscribers on your list. The quality, not the quantity of your subscribers is far more important. Making it difficult for people to unsubscribe can potentially lead to disaster. Beyond annoying and alienating potential prospects, it will be more difficult to track your eZine results. Allowing people to easily unsubscribe keeps your reputation intact and allows you to achieve optimum response rates.
It is perfectly understandable for you to want to make the most out of your eZine campaign as quickly as possible, but don't let that allow you to defeat its entire purpose. Realize that it takes some time for eZine marketing to produce optimum results by making sure it's implemented correctly. To keep you focused on the desired result, avoid these mistakes that eZine marketers often commit when running their Internet campaign.
Jeannine Grich, owner of Accurate Business Services, a VA practice, is an author, writer, speaker, and VA Business Coach, specializing in providing professional business coaching to established and start-up virtual assistants (VA's). For her FREE article, "What's Holding Back my Business Success?" or "Finding or Expanding Your Niche", Visit: https://VAbizcoach.com; or contact her at: [email protected].
Ready to find out how to take your business to the next level? Schedule a 30-minute complimentary session to discuss your business, and how coaching can help you GROW, here!