I've been coaching and mentoring virtual assistants for more than ten years. The number one issue that comes through in everything from marketing to client retention is ALWAYS pricing. How to establish your rates? How to take a rate increase? Fear of losing current clients because of an increase? Stumbling over our words when someone asks us what our rates are?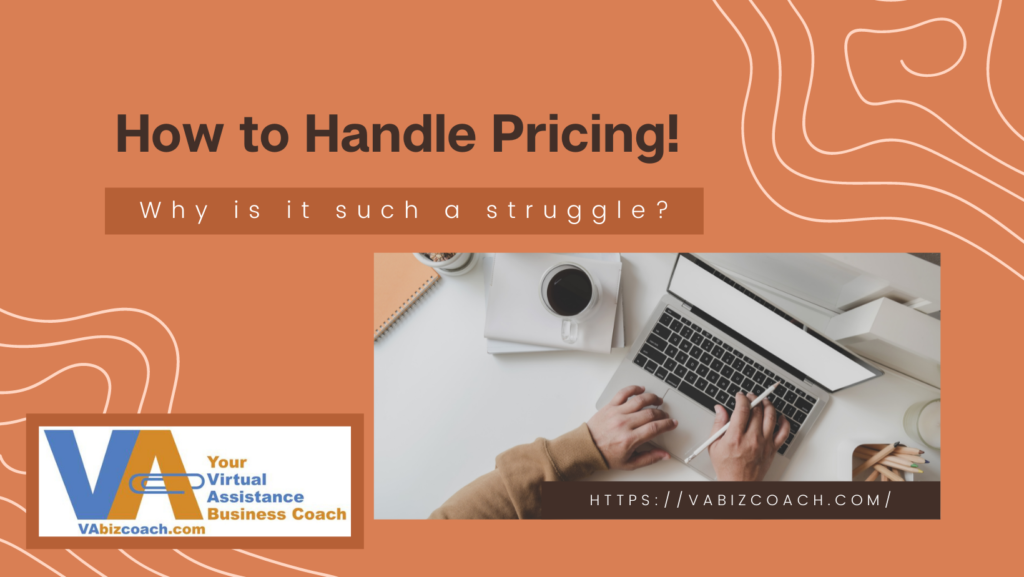 The list goes on and on – and it continues to challenge us even when we've been in business for years and years. With the current economic climate, one of the first things we probably think to do is reduce our rates. So what does that do to the perception of our services to potential and current clients?
I believe we do ourselves a disservice by lowering our pricing to clients. This seems to communicate that we don't believe we're worth the price we're asking, or that the finished product is less than beneficial. I do not believe this is the best way to keep your doors open, and maintain a profitable business.
What good does it do your clients and prospects if you lower your pricing to a point that you're no longer able to stay in business. Everybody loses.
Your rates should have been setup initially based on several factors such as:
Basic expenses of running your business – equipment, supplies, insurance, software & hardware, etc.
Amount you need to bring in as income in order to maintain your lifestyle
Amount you need to set aside as profit to continue to grow and build your business
Knowledge of what competitors in your same level of expertise might be charging for those particular services
Once you have established your rates, based upon your specific criteria, lowering your pricing should also include a loss of benefits – in other words, if your client or prospect wants a lower price, they may have to sacrifice part of the benefits. Perhaps you would exclude the 'proofing' of a project, or leave the document formatting to the client – but in some way, if the price is less, the services provided should be less…at least in this type of scenario.
It's sort of like that saying, "you can't have it all, pick two out of three – quality – price – service – which are you willing to sacrifice?
Instead, I suggest thinking outside the box and finding other ways to temporarily offset the economic struggle we all face. Here are several suggestions to get you thinking about ways to tackle this important issue in our businesses.
Offer an hour free for every 5-hours they book with you (I'd probably also suggest an expiration time on this type of promotion)
Offer a bonus – for every 100-contacts added to your database, get a free article for your blog
Refer a new client to my practice and when they are approved (must meet your ideal client profile) and complete their first project, you get 15% of their total invoice off your next invoice (or something similar – 1-hour free – $50 off – a $20 gift card to a national restaurant)
Create something that the client or prospect will be interested in after you've either interviewed them (to know what pain they need you to resolve), or from knowing their needs as a client already doing business with you
This sends a much better message and allows you to grow your business at the same time. While the perception to the client will be that they're saving money because of your offerings, you don't put yourself in the position of lowering rates that may be difficult to increase in the future or put you in a situation where you may not be able to afford to stay in business.
How could you grow your business if pricing wasn't such a struggle? How do you respond to someone who tells you your prices are too high? If you're still struggling to handle pricing in your business, let's talk!
Jeannine Grich, owner of Accurate Business Services, a VA practice, is an author, writer, speaker, and VA Business Coach, specializing in providing professional business coaching to established and start-up virtual assistants (VA's). For her FREE article, "What's Holding Back my Business Success?" or "Finding or Expanding Your Niche", Visit: https://VAbizcoach.com; or contact her at: [email protected].
Ready to find out how to take your business to the next level? Schedule a 30-minute complimentary session to discuss your business, and how coaching can help you GROW, here!