One of the surprising things I've learned as a Virtual Assistance Coach is that there are a large number of VAs who are not coachable.  They simply don't understand the concept, and they don't have enough business acumen to understand how they might benefit from such a relationship. 
I recently ran a private coaching special and picked up several new coaching clients.  We'll call them Debbie and Claire.  Both had been in business around the same amount of time, three years.  
Both had established niches.  By week three, I noticed Debbie was getting very good at making excuses for why she didn't complete the homework assigned the previous week.  She began to change her focus and niche, using these revelations as part of her reasoning behind not finishing the previous weeks' tasks. 
Claire stayed focused on her niche, completed the homework each week, and even did a few things outside her comfort zone, all with very positive results.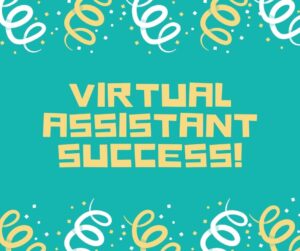 By week four, I could sense the frustration in Debbie's voice.  She was beginning to have frustrations with individual clients, so our time was spent problem solving….and still no homework. 
Debbie only made it to week ten of the program.  By this time the excuses had turned to anger and she felt I was applying too much pressure in asking her to commit to her business and do what we'd discussed. 
Claire made it through the 12-week program with flying colors.  She has a much more profitable and focused business and a lot less stress than when we'd first started.  Oh, and her sales are up 36%!  Woo Hoo!
Debbie is still waiting for her VA practice to grow.  She doesn't understand that just because you put up a website business will not necessarily start pouring in.
Are you a Debbie or a Claire? Are you willing to evaluate yourself, and your business, and do what's necessary to make your business a success?  Having your own business isn't easy; you have to continually work at it. 
If you aren't willing to wear all the hats necessary to run a business, you will have a hard road to climb.  You must differentiate yourself from other VAs vying for the same business – don't be a Debbie, take control of your business and do whatever it takes, even if it's outside your comfort zone, and enjoy true success.
Jeannine Grich, owner of Accurate Business Services, a VA practice, is an author, writer, speaker and VA Business Coach, specializing in providing professional business coaching to established and start-up virtual assistants (VA's).  Visit:  https://vabizcoach.com; or contact her at: https://vabizcoach.com/contact-us/.