Over the coming weeks I'll be addressing everything you might like to consider when it comes to finding or developing your niche.
If you've been in business for several years, I'm sure you've heard about niches before. You either have a niche or have decided whether or not having a specific niche is right for you. Perhaps you're looking to reinvent yourself and your niche, so revisiting this process will lead you to the most logical niche. Is this where you find yourself right now?
I was resistant to niche when I first started my business. Okay, I went kicking and screaming. I was insistent that if I developed a single niche, I would be leaving all kinds of needed business on the table. Boy was I wrong.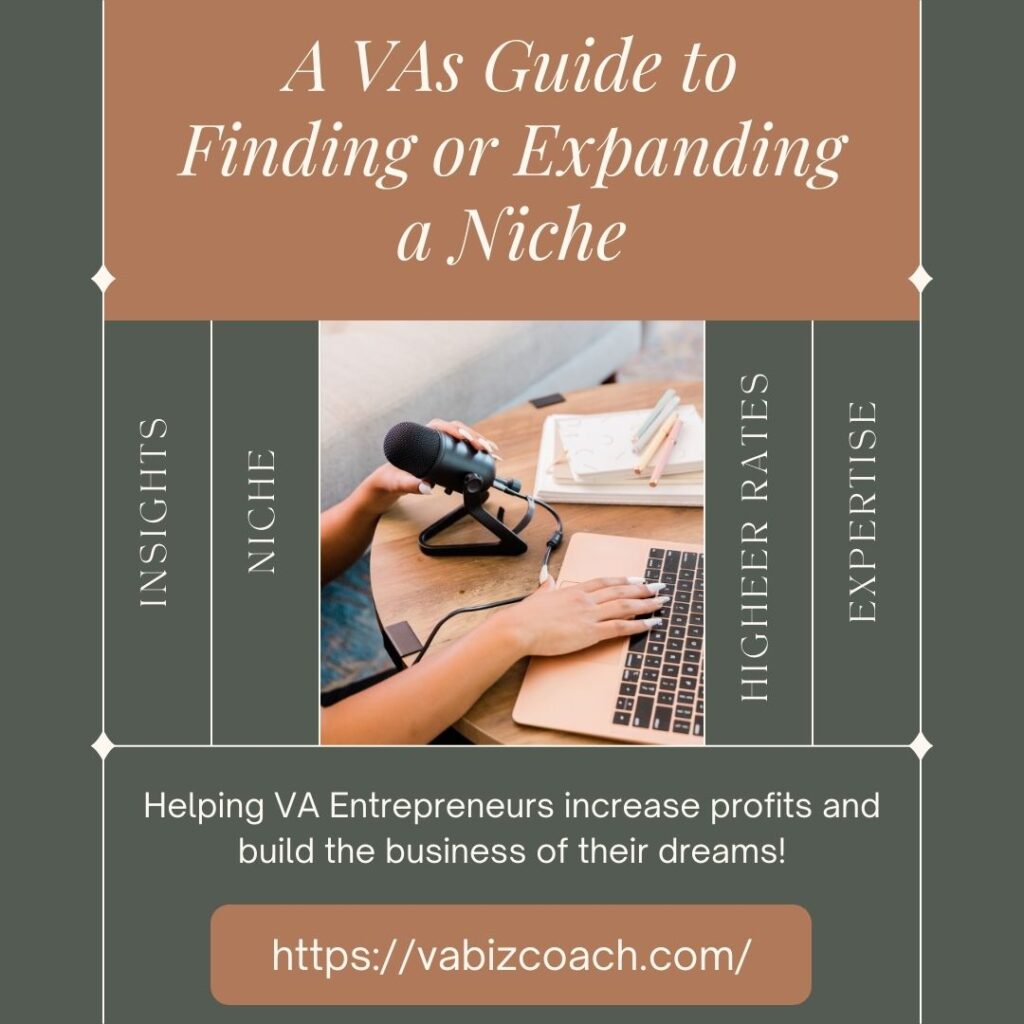 Through this process I will share the fears and triumphs that establishing a niche can provide; and introduce you to several options to finding and promoting yourself through an established niche.
The first thing to discover is why a niche is so important. While I'm certain I won't mention everything that makes a niche important, I will focus on the top five:
Establishes you as an expert;
Allows you to charge higher rates;
Reduces marketing expenses;
Helps focus your marketing message; and
Creates a specific area of software needs and required proficiency.
You Become the Expert!
When we first start our Virtual Assistance practice, we usually believe it's best to market to everyone. Couldn't everyone use our services? Why wouldn't you want to market more generally?
By not finding a niche, or target market, you are simply throwing your marketing message at a wall and trying to figure out what sticks. It's throwing you in a 'generalist' or 'me, too', business model. This will make it difficult for you to differentiate yourself from all the other Virtual Assistants out there.
Virtual Assistance has come a long way since I started back in 1998, and I was one of those people that believed being a generalist was really the way to go. I liked being a generalist. I liked being able to offer different types of services to different types of people and industries.
I prepared resumes, did transcription for focus groups, helped REALTORS post their listings online and create flyers, prepared legal documents, and more. I absolutely LOVED what I was doing.
Unfortunately, at a time when the industry was just taking shape, I was making it extremely difficult for myself to find clients. No one exactly understood what I was doing, and honestly, I'm not sure I did, either. I was barely paying the bills, and certainly wasn't able to take any sort of an income. By my third year in business, I figured I'd better do something and do it quick.
I had already been working with several REALTORS and liked what I was doing for them, and everyone had been bugging me about finding my niche, so I took a chance. I transitioned the content of my website to focus on services to REALTORS.
I had started getting involved and researching what Virtual Assistants could do for REALTORS. I had already achieved my CRESS (Certified Real Estate Support Specialist) designation through the International Virtual Assistants Association (www.IVAA.org) and had met several other real estate support VAs by participating in the REVA Network (www.REVAnetwork.com).
That led to being approached by one of Michael Russer's Virtual Assistant's asking me if I would consider flying out to San Francisco for the NAR (National Association of REALTORS) Conference to participate in a round table discussion that would give me access to potential clients. Michael Russer is a residential real estate coach and a champion to virtual assistants. Many of his programs support and elicit the use of virtual assistants.
What the heck? I liked San Francisco, what did I have to lose? I had 'sort of' decided I'd give the real estate niche a try. What happened next was astounding to me.
While I didn't get an immediate response, my business doubled in four months. I started picking up more REALTORS as clients than I'd ever thought possible. Suddenly, I was getting referrals to more REALTORS nationwide. At that time, I never dreamed that more than 80% of my business would come from outside the State of Missouri, where I was located.
My main reason for not wanting to niche was that I feared I would ONLY attract clients in that particular niche. What actually happened was that I had placed myself as an expert in real estate support, and in doing so, also connected to referrals in other industries, and was able to ultimately transition into a Multi-VA practice pretty quickly.
Charging Higher Rates
After my trip to San Francisco, and participating in industry conferences, I began to realize another very nice benefit – now that I could place myself as the expert, I could also charge higher rates, something I'd struggled with for some time, and something I think most business owners, and women in general, struggle to do.
Once I had established my niche and focused my training, certifications, and marketing on that niche, I was able to build a more profitable and successful business, and in record time. By charging higher rates, I was able to bring more money into my business, maintain and expand my client base, and almost guarantee that I would be able to sustain the business and take an income. I do believe that finding a niche is very, very important if you want to take your business to the next level.
Next week we'll take a look at your marketing message within a niche, expertise and education, and doing what you LOVE to do…Stay tuned!
Jeannine Grich, owner of Accurate Business Services, a VA practice, is an author, writer, speaker, and VA Business Coach, specializing in providing professional business coaching to established and start-up virtual assistants (VA's). For her FREE article, "What's Holding Back my Business Success?" or "Finding or Expanding Your Niche", Visit: http://www.VAbizcoach.com; or contact her at: http://vabizcoach.com/contact-us/.
Ready to find out how to take your business to the next level? Schedule a 30-minute complimentary session to discuss how coaching can help you GROW, here!