One of the first questions most of my coaching clients ask is how they find and keep clients.  My short answer is to be focused on exactly who you're looking for and whether or not you REALLY want to do business with them.
This may sound odd, because especially in the start-up phase of your business, it's usually a mad dash to capture any and all business from everywhere possible because you need the income, but not everyone is a good prospect for you and your business.  Trust me, you're talking to a woman who in her second year in business used to put bathroom fixtures into her 4-door car and deliver them to jobsites for $100.
I understand why I did it, and looking back, I would never, ever, do it again.  It cost me way more than $100, and in the long run I learned that, had I spent that time marketing my business, I could have created more success for myself much more quickly.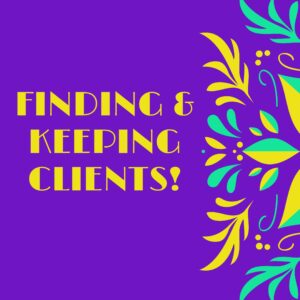 So, let's get real about what WE need to do to attract clients.  Here are my suggestions for a basic system to get you moving in the right direction without spending a lot of money.
Who are you looking for? So many VAs market their businesses to 'everyone'.  That's probably not very realistic – instead, look at your current client list, what services you offer, who you'd like to do business with, and do some research to find out who they connect with – like CPAs are good people to know if you're looking to connect with attorneys; or mortgage lenders if you're looking for REALTORS, etc.  Once you know who you're looking for you can determine where to find them.
Where can you find them? Talk to current clients in that same industry and find out if they have an industry association (like IVAA is to VA's), online community, trade magazine, certification options, etc.  If you don't have current clients in that industry – find some and check out their websites or give them a call and ask them some questions about their industry and how to connect to them. Then see if their associations have local chapters in your area where you can network with them, or advertise in areas they're sure to find you (article submissions to their industry newsletters, etc.)
What sort of media (especially social) are they involved with? Look at LinkedIn for groups catering to their industry, or Twibes, etc., to see if there are ways to connect to large groups of your target market for little to no cost.
Get connected and start building relationships. Once you find out who you're looking for, where they hang out, and what sort of media attracts them, it's time to start building relationships so they can get familiar with you and your expertise.  You can do this by writing articles that speak to their challenges and problems, problems that you can solve for them.  Once they realize that you're the expert they've been looking for they WILL start coming to you.  You can also take those articles and turn them into blog postings, or 20-30 minute presentations for you to share at a local chamber, or group networking event where your target market, or those who can refer them to you, may be hanging out.
As your marketing budget allows, craft a marketing message (something that speaks to 'what's in it for them') and use it everywhere you can – brochure, tag line, website, business card, etc., anything that can be used in a way to connect you to people who want and need your services.
Okay, that's a good start in finding where your potential clients might be lurking – now what?  You've got to get them to decide you're their best option.  Here are some simple ways to differentiate yourself from other virtual assistants who may be vying for the same business.
If you have an opportunity to research them and their company before you speak to them personally, this is best. If it's someone's referral, or a website request with an indication of their company name or URL, see what you can find out about them, so that you can look sharp by mentioning something about their company during the interview.
When speaking to the client, by phone or email – the most important thing is to ask how they found you. Keep good notes so that you'll know what form of marketing is working best.  Then devote more of your time, money and efforts to those things that attract the most 'ideal' clients.
Next, have a set of interview questions prepared to ask each prospect. If you can control the conversation and steer them towards questions that will identify for you whether or not they're a good fit (Do they seem like the type that will micro-manage you, or do they only seem interested in pricing?), and get good information about their needs and how you can solve their problems.  You may not get the opportunity to ask all your questions, maybe not any, but having some to fall back on will help you feel more comfortable during the process.
Try and stay away from quoting a price until you feel comfortable that you have all the information you need to give them pricing/rates in a way that fits into what they're looking to hear – do they work with a budget – have they worked with an independent contractor before? Ask open-ended questions that help them close the sale themselves.
Don't be afraid to suggest someone else if you're not the right fit. There's nothing more frustrating than having a VA say they can do something they can't.  If you're not proficient in the area of support the client requires, consider other options like sending them to someone you know who is an expert in that area, or consider using a sub-contractor, etc.  It's not worth the possible bad feelings, or tarnishing your reputation to try and do something for which you're not the expert
Finding and attracting the right clients takes time and knowledge – not only educating yourself on new technologies and options available, but in making sure that your message reaches the prospective client that is ideal for your business.
Now that you've 'closed the deal' and have new clients in your business, it's time to start building strong relationships with them to make sure you're indispensible to them and to keep your competitors out.
The reason the client chose to work with you is most likely because they realized they know, like and trust you.  This is a great start, but the relationship needs to be deepened and expanded upon.
Here are several things I can suggest:
Learn enough about what they do, and how they help their clients, and refer someone who could use their services.  This goes a long way in reminding them to refer new business to you, too.
Introduce them to new technologies and productivity tools that help them be more effective and successful.  I think this is a BIG part of the expectation in the partnership with a virtual assistant.
Stellar customer service – do what's best for the client, not what's most lucrative for you.  Don't always look at things from an income/profit standpoint; but try to see it from their side. Offer several options to solve any dilemmas you may be faced with, even if it means they get the completed project, and you write off the invoice. This will go a long way in creating an impeccable reputation for you and your business.
Do something no one else is doing.  I get such an incredible response from sending links to clients for articles or websites I find that could benefit them and their business; printing and mailing them an article or resource with a notation that I was thinking of them; and handwritten notes just saying how much I enjoy working together.  I even write notes on monthly invoices.  And finally, pick up the phone.  I know we do a lot of our projects virtually, but there's still something to be said about a personal telephone call, especially for someone you may have never set eyes on.
Having and keeping good lines of communication open with all of your clients, and especially those who have done business with you in the past, will help you to maintain and grow a wonderful client base to keep you growing and profitable for years to come.
Jeannine Grich, owner of Accurate Business Services, a VA practice, is an author, writer, speaker and VA Business Coach, specializing in providing professional business coaching to established and start-up virtual assistants (VA's).  Visit:  https://vabizcoach.com; or contact her at: https://vabizcoach.com/contact-us/.